Centennial Hall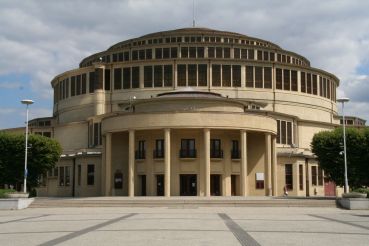 Centennial Hall is located in the city of Wroclaw. This sports complex was built in 1913 in honor of the centenary of the Battle of Leipzig. Hall has rightfully earned the title of masterpiece of architecture and is included in the World Heritage List of UNESCO. It is made ​​of heavy-duty concrete and steel in a postmodern style. The author of this unique creation was renowned architect Max Berg.
Nearby is one of the most beautiful and oldest parks in Europe - Schitnitsky park. Park and architectural complex also includes a lovely pergola that surrounds one of the most spectacular light-music fountains Poland. In the winter time instead of the fountain roller acts.
This room is one of the largest buildings in the whole of Poland. It can simultaneously accommodate ten thousand people. Today at Centennial Hall hosts various public events, sports events, opera performances, major exhibitions and other public events.
Get to Centennial Hall on city trams can be number 1, 2, 4 and 10, or bus number 145 or 146.