Main Square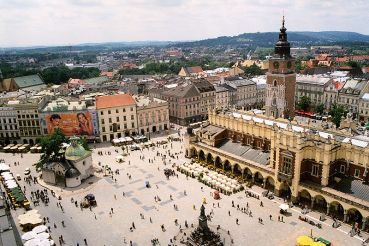 Market square in Krakow in Poland is presented as one of the oldest and largest such area in Europe. All of its huge territory is a pedestrian zone. The famous King's Road, which runs through all the major attractions of the Old Town, just connects Matejko Square, Market Square and the Wawel Castle in Krakow. It is this trail is very popular among visitors.
Old Square was founded in 1257. In 17-19 centuries the surrounding buildings were refurbished and remain unchanged until today. Here are the major cultural heritage sites, including an amazing example of Gothic architecture in Poland - St. Mary's Church. Also on the square you can see the Town Hall Tower, a monument to Adam Mickiewicz and the church of St. Adalbert.
Krakow's Market Square was formerly a major center of trade, its Cloth Hall were glorified by all medieval Europe. Today, the area is considered the heart of the city, its main attraction.